Handling Products (Websites)
Before the product can go public, it has to be reviewed by ReadyShip.
After the site is published (available for sale), you use the same WordPress development environment to add changes to your site.
Product cycle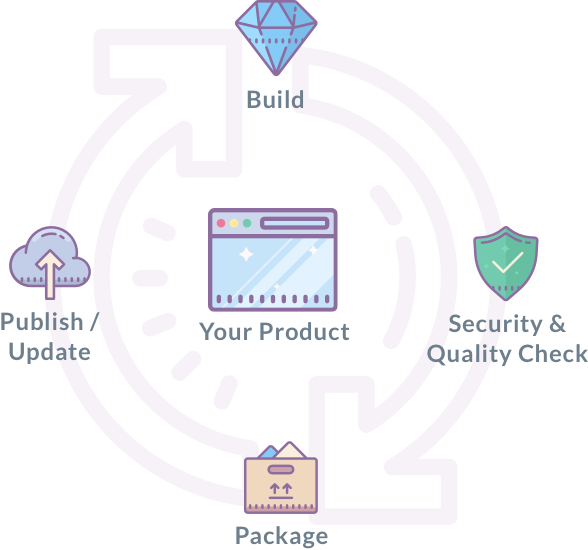 Adding a New Product
You can create as many products as you want.
Feel free to create different types of products, like corporate site, portfolio, e-commerce etc. Having multiple products can get you more customers which means more proffit.

You can use the same WordPress theme/plugins to create different variations for different purposes.
You can create pricing plan groups and assign them to one or multiple products. For more details, please check Plan Groups and Products.
Updating a Product
You can update your product any time using the same WordPress development environment. You can update your product even if it is published, just please make sure to submit a new Release Version from your dashboard inorder to apply those changes.
The updates will not affect existing customers' websites. They will only affect future customers who will buy your product.
If you are the creator of the original theme or plugins, update them via the WordPress Org or your server.
Discontinuing a Product
Once you create a product, it cannot be deleted. However you can disable it from public use. Use the product settings page to set it not to be displayed on the marketplace. After this your product will no longer appear on the marketplace, hence no one will be able to purchase it.
About Licensing
Regarding licensing, Wordpress's standard GPL license will apply. The product's content will be the creator's responsibility.
Please make sure whether you can use the images, videos or any other assets in your website for commercial purposes. Even if commercial use is permitted, it might not be allowed to be distributed as software.

If you use free CC0 licensed items from a website or other sources, please make sure to verify that the item you want to use is not illegally uploaded. We suggest you to make a screenshot when you download the item from the CC0 website.